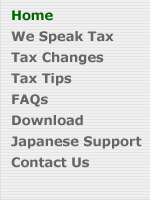 Your San Francisco Enrolled Agents

L.J. Anderson Tax & Financial Services offers a full range of taxation and accounting services. Count on caring, personalized service from our team of Enrolled Agents, federally-authorized tax professionals.



Individuals



Corporations



Partnerships



Non-residents and all states



IRS audit representation



Solving delinquent tax returns



Electronic filing



Free Initial Consultation


If you need help with your money, call us today at (415) 387-0500 for free initial consultation. Please check our location, too.





We are pleased to offer our clients a secure lockbox:



Lockbox Login






Federal income tax refund status


California income tax refund status


Your California tax balance due



Your tax payments made to California


Beware of Calls from IRS Impersonators


The Treasury Inspector General for Taxpayer
Administration (TIGTA) is reminding taxpayers to beware of phone calls from individuals claiming to represent the Internal Revenue Service (IRS) in an effort to defraud them.

IRS usually first contacts people by mail – not by phone – about unpaid taxes. And the IRS won't ask for payment using a pre-paid debit card or wire transfer. The IRS also won't ask for a credit card number over the phone. If someone unexpectedly calls claiming to be from the IRS and uses threatening language if you don't pay immediately, that is a sign that it really isn't the IRS calling.



California Business Entities e-file Requirement


The California Franchise Tax Board announced that effective on January 1, 2015, for taxable years beginning on or after January 1, 2014, business entities that prepare an original or amended return using tax preparation software are required to file electronically their returns. The new law applies to tax preparers who file the return on a business entity's behalf.

Acceptable business returns:



Corporations: Forms 100, 100S, 100W



Partnerships: Form 565



Limited Liability Companies: Form 568



Exempt organizations: Form 199

Trust and Estate returns (Form 541) are not included in this requirement.



Standard Mileage Rates for 2015

| | |
| --- | --- |
| Business | 57.5 cents |
| Medical/Moving | 23.0 cents |
| Charitable | 14.0 cents |