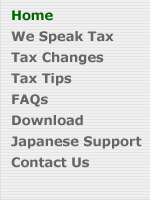 Your San Francisco Enrolled Agents

L.J. Anderson Tax & Financial Services offers a full range of taxation and accounting services. Count on caring, personalized service from our team of Enrolled Agents, federally-authorized tax professionals.



Individuals



Corporations



Partnerships



Non-residents and all states



IRS audit representation



Solving delinquent tax returns



Electronic filing



Free Initial Consultation


If you need help with your money, call us today at (415) 387-0500 for free initial consultation. Please check our location, too.





We are pleased to offer our clients a secure lockbox:



Lockbox Login






Federal income tax refund status


California income tax refund status


Your California tax balance due



Your tax payments made to California


Short Sale on Main Home Is Not Cancellation of Debt Income in California


IRS answered to Senate Barbara Boxer in a Chief Council letter dated September 19, 2013 that short sale of a CA principal residnece converts the mortgage to a non-recourse loan, and for federal income tax purpose, it is treated as a sale, not cancellation of debt income.

Franchise Tax Board confirmed that California would follow this federal treatment as the state conforms to the relevant portions of the federal tax law governing the forgiveness of mortgage indebtness.



Simplified Option for Claiming Home Office Deduction Starting 2013


The IRS announced a simplified option that many owners of home-based businesses and some home-based workers may use to figure their deductions for the business use of their homes.

The new optional method allows for a deduction, capped at $1,500 per year based on $5 a square foot for up to 300 square feet, regardless of actual cost. However, homowners using the new option cannot depreciate the portion of their home used in a trade or business.



Report of Foreign Bank and Financial Accounts Goes to Online

The new FinCEN Report 114 replaced TD F 90-22.1 and now the taxpayers need to e-file the form, not with tax return, at
http://bsaefiling.fincen.treas.gov/main.html.



Standard Mileage Rates for 2014

| | |
| --- | --- |
| Business | 56.0 cents |
| Medical/Moving | 23.5 cents |
| Charitable | 14.0 cents |