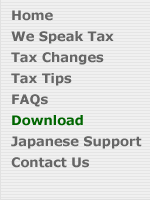 You can download various tax-return forms for your use. You need Adobe Reader to view and print those forms. To fill in the form(s) using your computer, we recommend you use version 8 or later for security reason.

[Download the latest version of Reader]

.

Forms for Individuals


Form 1040-V: Payment Voucher


Form 1040-X: Amended Income Tax Return


Form 4137: Social Security and Medicare Tax on Unreported Tip Income


Form 4852: Substitute for Form W-2


Form 8822: Address Change Notification


Form 8857: Request for Innocent Spouse Relief


Form 9465: Installment Agreement Request


Form W-4: Employee's Withholding Allowance Certificate


Form W-7: Application for IRS Individual Taxpayer ID Number


Form W-9: Request for Taxpayer ID Number and Certification


Form 4868: Extension of filing Tax Return


Form 2350: Extension for US Citizens Abroad


Form 8809: Extension of Time to file Information Returns

Downloadable Tax Information


Publication 17: Comprehensive directions for personal tax filing for individuals.


American Taxpayer Relief Act of 2012
Forms for Corporations

Form SS-4: Application for Employer ID Number


Form 3115: Application for Change in Accounting Method


Form 5472: Information Return of a 25% Foreign-Owned U.S. Corporation or a Foreign Corporation Engaged in a U.S. Trade or Business


Form 7004: Extension of filing Tax Return



Institutions/Organizations

Internal Revenue Service

California Franchise Tax Board

California Employment Development Department

Social Security Administration

U.S. Tax Court

California State Board of Equalization (CA sales tax)


National Association of Enrolled Agents
Specific Items

Apply for a Federal Employer ID Number online

American Recovery and Reinvestment Act of 2009

IRS FAQs

Income Tax Refund Status (IRS)


Income Tax Refund Status (CA FTB)


IRS Tax Withholding Calculator

Search for Qualified Charitable Organizations

990 Finder: Find how your favorite charity are doing.


Compute the Tax-Free Portion of Your Federal Retirement Benefit

U.S. Tax Treaties - A to Z

S Corporation Compensation and Medical Insurance Issues (IRS)


Apply Installment Agreements via Online if the tax balance due is $50,000 or less (IRS)


Offer-in-Compromise Pre-Qualifier Tool (IRS)



Historial Foreign Exchange Rates

U.S. Historical Gasoline Prices